As a long-time self-employed person, I have many irons in the fire. One of my primary ways to make my living is through desktop publishing, book and magazine design. For years I shared a partnership owning a small business called "Typesetting Etc." in San Francisco. In 2005 I went independent and started working out of my home under the name "Cloverleaf Productions" but as of 2012 I've dropped that too, and am just doing business as myself. Further down you can find a selected list of clients past and present.
I also peddle some of my creations, including books and bicycle "license plates". Here are some links where you can purchase these by paypal and I'll send them to you directly!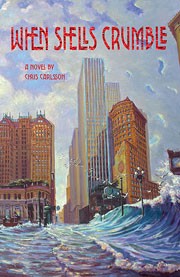 When Shells Crumble
$25.00 plus shipping
(Outside the U.S. shipping cost is the price of the book! If you want one shipped outside the U.S. please pay for two books and I'll send you one!)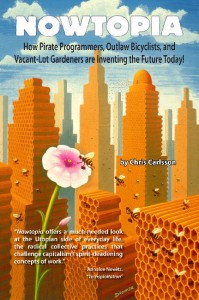 Nowtopia: How Pirate Programmers, Outlaw Bicyclists, and Vacant-lot Gardeners are Inventing the Future Today!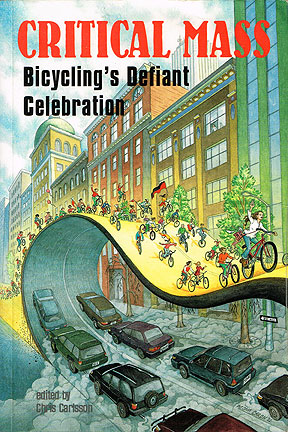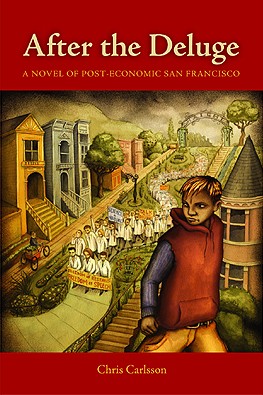 After the Deluge
: A novel of post-economic San Francisco
Download the pdf of "After the Deluge" and leave a donation if you will!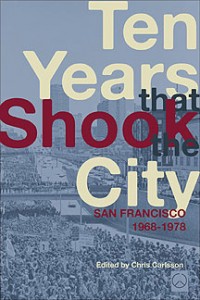 Ten Years That Shook the City: San Francisco 1968-78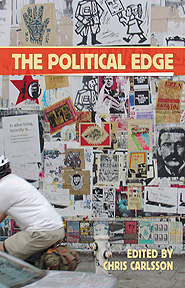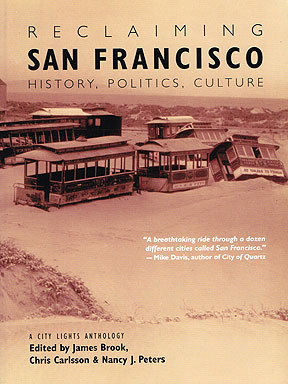 Reclaiming San Francisco: History, Politics,
OUT OF PRINT!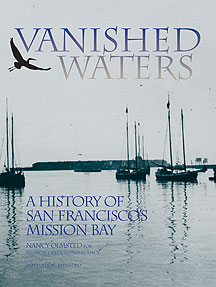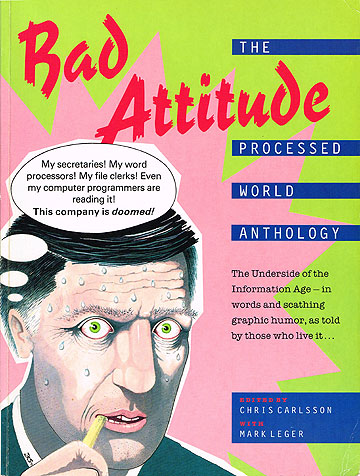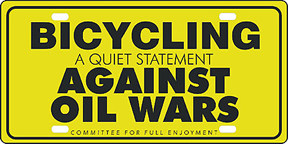 6″ x 12″ plastic (!)
perfect for hanging from bicycle!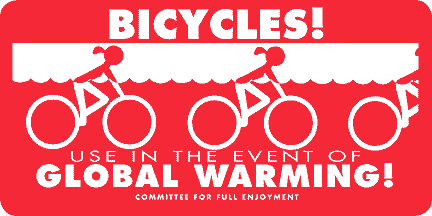 6″ x 12″ plastic (!) perfect
for hanging from bicycle!
Cloverleaf Productions
desktop publishing, book and magazine design
Client List past and present (selected):
Telegraph Hill Dwellers Association
Haight Ashbury Literary Journal
Planet Drum Pulse
International Longshore and Warehouse Union The Dispatcher (1998-2008)
Great Basin Publishing
Inside the Glitter: Lives of Casino Workers
I Was Born a Black Woman
website for film documentary on Benedita da Silva
Mae Silver, author
Too Hot to Hide III: Stories About Historic Women in New Brunswick, New Jersey
Clara: Clara Barton in Early New Jersey
San Francisco Memories
Billy Buster
Stars on the Diamond: Early women's softball in Jersey
Too Hot to Hide: Remarkable Women of Ft. Lauderdale
Watch Out Ivy!
Rancho San Miguel: A San Francisco Neighborhood History
The Sixth Star: Images and Memorabilia of California Women's Political History 1868-1915
Lucky 130
Book designs for
• When Shells Crumble by Chris Carlsson (Spuyten Duyvil, Brooklyn NY: 2024)

• The Secret Ugly: The Hidden History of US Germ War in Korea by Thomas Powell (Edgewater Editions, Sacramento, CA: 2023)

• Patriots: A Novel of San Francisco by Bill Issell (Carleton Street Publications: 2023)

• Too Hot to Hide III: Stories About Historic Women in New Brunswick, New Jersey by Mae Silver (2023)

• Get A Life: Chronicles of a Conscious Scofflaw: A Memoir by dress wedding (2022)

• Beyond Rally Day by Joe Illick (Full Court Press, San Francisco: 2022)

• Clara by Mae Silver (2022)

• Wonder Woman Electric to the Rescue: Memoir, Essays, and Short Stories by a Trailblazing Tradeswoman by Molly Martin (Tradeswoman Books, Santa Rosa, CA: 2021)

• Traitors: A Novel of San Francisco by Bill Issel (Carleton Street Publications: 2021)

• Kiss My Gay Ass! by Tom Ammiano (Bay Guardian Books:2020)

• Billy Buster by Mae Silver (2020)

• Coit Tower: A Novel of San Francisco by Bill Issel (Carleton Street Publications: 2019)

• Giving Voice: LaborFest Writers Anthology 2005-2017 (2018)

• Cooking Together, A Vegetarian Co-op Cookbook (Shanta Nimbark Sacharoff: 2017)

• Saving San Francisco's Heart: How to win elections, reclaim our city, and keep SF a special place (Bay Guardian Books: 2017)

• Stars on the Diamond: Early women's softball in Jersey (Mae K. Silver: 2014)

• The Tenderloin: Sex, Crime, and Resistance in the Heart of San Francisco (Urban Reality Press: 2013)

• Why Is That Bridge Painted Orange? (Inquiring Minds: 2013)

• Shift Happens! Critical Mass at 20 (Full Enjoyment Books: 2012)

• Too Hot to Hide: Remarkable Women of Ft. Lauderdale (Mae K. Silver: 2012)

• Ten Years That Shook the City (City Lights Foundation: 2011)

• Vanished Waters: The History of San Francisco's Mission Bay (Mission Creek Conservancy: 2nd edition 2011)

• With Green Day in China (Cometbus #54) (2011)

• Watch Out Ivy! (Ord Street Press: 2009)

• An American Anarchist's Tale (Gimbel Press: 2008)

• Chinatown Squad (Noir Publications: 2008)

• Nowtopia (AK Press: 2008)

• The Toughest Gang in Town (Noir Publications: 2005)

• After The Deluge (Full Enjoyment Books: 2004)

• The Political Edge (City Lights Foundation: 2004)

• Critical Mass: Bicycling's Defiant Celebration (AK Press: 2002)

• Twilight of the Male Ego (Tsunami Inc.: 2002)

• Rancho San Miguel: A San Francisco Neighborhood History (Ord Street Press: 2001)

• The Sixth Star: Images and Memorabilia of California Women's Political History 1868-1915
(Ord Street Press: 2000)

• Inside the Glitter: Lives of Casino Workers (Great Basin Publishing: 1999)

• Bike Traffic (Bicycle Community Project)

• Lucky 130 (Ord Street Press: 1999)

• A Pioneer Community of Faith (Old First Presbyterian, publisher: 1999)

• The Congress of Clowns and other Russian circus acts (Kropotkin Club of San Francisco: 1998)

• Reclaiming San Francisco (City Lights Books: 1998)

• Bad Attitude (Verso Books: 1990)

• Tamsen's Notebooks Vol. I, II, III (Julie Cairol, publisher: 1980s)